The Market at Sawyer Yards
The Market at Sawyer Yards got it's start in the spring of 2016. The market seeks out folk artists, makers, funky art, recycled, up-cycled, pet treats, designers, greeting cards, yard art and packaged foods made locally. We do accept some traditional art but only about 10% per show. In a very short time The Market at Sawyer Yards has established a solid client base. The market receives great publicity from founder Mitch Cohen, who has 15 years experience and the Sawyer Yards Creative Campus. It's a desirable and well-established venue, in a great setting.
$10 application fee. $50 Booth Fee.
*Emerging artist? If you have no experience at outdoor art shows (ex: no equipment or tax ID) - we request that you fill out the emerging artist application. We'll give you an honest critique of your art and a jump start if you're heading in the right direction. No app fee. Emerging exhibitors only: Market at Sawyer Yards Emerging Artist Application
What we look for and application tips
The maker (you) is the seller, we look for originality and quality.
Items must be made by the seller with an emphasis on materials.
Tell us about what you do.
Whatever it is you do - toss in some pics of you at work or your workspace so we know it's you. Even a messy studio, garage or kitchen table.
Include work in progress (WIP) photos for 3D, sculpture, jewelry, woodcraft etc.
* Absolutely NO reproductions or inclusions of trademarked or copyrighted material, people or icons, including celebrities past and present, no sports logos or derivative work are allowed as example or for sale. No manufactured, representative, resell or direct sales companies.
The Curating Team
Your application will be received and reviewed by 15 exhibitors from the market. These exhibitors helped to write this application and they take it very seriously! They look for originality, professionalism and presentation. It is highly recommended that you follow the application guidelines.
Unless you love rejection, (really, who does?) be sure to include everything requested.
REQUIRMENTS
TENT - 10 x 10 max and we prefer white.
WEIGHTS: for your tent. 30 - 40 pounds per leg is ideal. Buy them online at Amazon or Walmart (and pick them up at your local store.)
TAX ID: Texas Sales and Use Tax Permit (click here to obtain)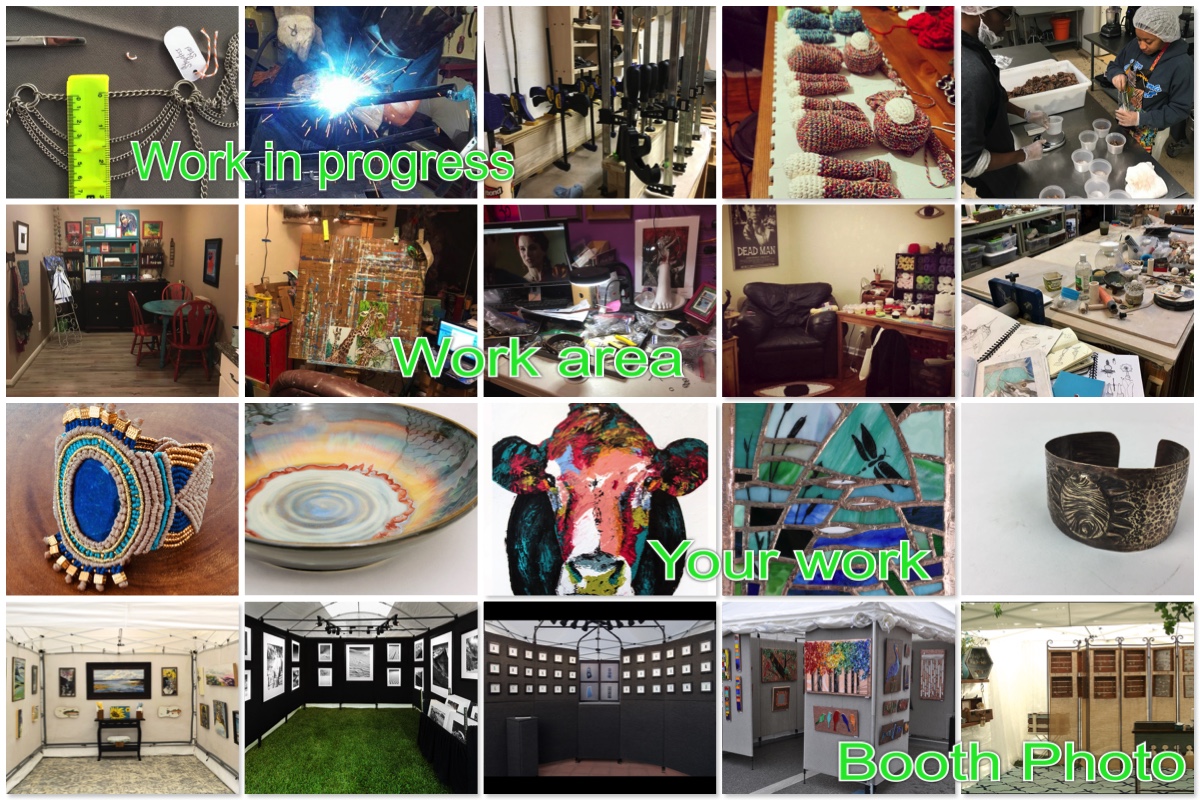 From Claire Drennan Knitwear
My Knitting Machine, Which Is Roughly The Size Of An Electric Piano And Nearly Fifty Years Old, Makes Use Of A Binary Punch Card Computer And A Knitting Carriage That Is Manipulated Manually Across A Bed Of Latch-Hook Needles. I Am Continually Inspired By The Capabilities And Limitations Of This Elegant Machine. More http://www.clairedrennan.com/claire-drennan-knitwear/
Application Requirement Checklist
Have the following ready to upload.
Detailed Description of work
Images of art
Work in progress for 3D art (jewelry, wood, metal, ceramics, etc.)
Booth Photo & work space photo
Credit Card or PayPal for App fee
Texas Sales and Use Tax Permit
Failure to include any of the above will result in a declined application.
There Is No Application Refund